I was tagged by Alexis Leon... a picture Tag :)
so here it is
1. Amithabh Bhachan
Comment: Yevan Puliyanu kettooo..puli...verum puli alla...SIMHAM :)..i dont think anybody will be able to be a superstar twice in his life.... amithabh bahcan was the super hero in the 70's and now also he can be called a hero. his acting career will never have an end. am sure he will be able to do lot more movies.
2. poor me :(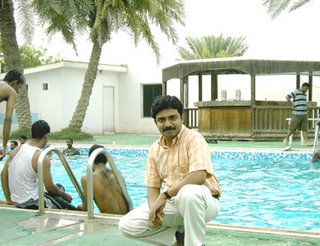 Swimming
Comment: am sure i wont be able to do it.. i can just go around the swimming pool ..this happend last month also... my friends and me enjoyed a day at a place called "Holiday villa".. a nice place to have fun and frolic...evening everybody jumped into the swimmingpool and was having a nice time...and poor me was taking some photos and watching them enjoy swimming....yeah in the above photo its me :((
3. love at first sight
Appenzell, Switzerland
Comment:I saw a photo of this town and instantly fell in love with the town...its a small country side..a silent and calm place... should i tell u more about it ?.just see the photo
4. stone age buddies
Flintstones
Comment:....yabba-daba-doo...am a big fan of those Hi-tech-stong-age fellows..the perfect husbands..perfect friends...not just that i like them , am big fan of these guys. Fred-wilma, Barney and betty.. thier modern-stone age tools are super ex: the alarm bird, car wash
elephant, scissor stroke...all of them are superb. i used to think about the guys behind the series , they are really talented. but i would have to say that the flintstone moviies were not that good :( ...they coudnt portray the the flintstones properly in the silverscreen....so thats my random favourite.. ..so let me listen to the theme song... "Flintstones, meet the flintstones , they are the modern stone-age famillyyyy......".................END.......WILMAAAAAAAAAAAAAAAAAAAA(fred shouting).
5. I was tagged by Alexis Leon
check his post :)
with some amazing photoshop works ;)